FreeRapid Downloader - Welcome
Welcome to the homepage of the open source software FreeRapid Downloader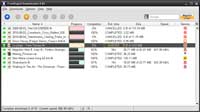 FreeRapid is an easy to use Java downloader that supports downloading from Rapidshare, Youtube, Facebook, Picasa and other file-sharing services, include the new ones like mega.co.nz.
Simply copy and paste your links from a browser to this application. FreeRapid Downloader will handle the rest itself. No more clicking or uncomfortable waiting.
Main Features
support for concurrent downloading from multiple services
downloading using proxy list
support for streamed videos or pictures
download history
smart clipboard monitoring
automatic checking for file's existence on server
auto shutdown options
automatic plugins updates
simple CAPTCHA recognition
works on MS Windows (all, include Win7 and Win8), Linux and MacOS
easy to use
multilanguage interface English, Bulgarian, Czech, Finnish, Portugal, Slovak, Hungarian, Simplified Chinese and many others. Information for translators .
looks great
more than 730 supported sites!
simply works! more over 2 000 000 users can confirm that
Help us
to spread out the language list.
Currently supported services are:
Well-known international sites!

Rapidshare.com (+ premium)
MegaUpload.com Mega.co.nz!
Megarotic.com & Sexuploader.com
MediaFire.com
NetLoad.in
Hotfile.com :-(
FileFactory.com
UploadStation.com
Uploaded.to
DepositFiles.com
Share-online.biz
Storage.to
Uploading.com
Share-online.biz
Crocko.com
Letibit.net
Uploadcore.com
FileStay.com
Bitshare.com
SaveFile.com
4shared.com
Load.to
Eazyupload.net
Vimeo.com
FileUpload.net
Uppit.com
FileFlyer.com
Dailymotion.com
Freakshare.net
ShareBees.com
Picasa.google.com
YouTube.com (video)

Popular sites in YOUR country!

Sendspace.com
Prefiles.com
Sendspace.pl
Indowebster.com
Ziddu.com
FlyUpload.com
Rapidshare.de
Cramit.in
BitRoad.net
iFile.it
UploadJet.net
Ifolder.ru
MegaShare.vn
Mega.1280.com
FilesMonster.com
Multishare.cz
HellShare.com (+full)
QuickShare.cz (+premium)
Uloz.to
Sdilej.cz
Multiload.cz
Share-rapid.com
Nahraj.cz
Titulky.com
Edisk.cz
LeteckaPosta.cz
CZShare.com free (+profi)
Subory.sk
CobraShare.sk
Ulozisko.sk
Stream.cz (video)
O2MusicStream.cz (video)

Crypters!

Usercash.com (crypter)
Tinyurl.com (crypter)
Linkbucks.com (crypter)
RSMonkey.com (crypter)
Radikal.ru (crypter)
Paid4share.com (crypter)
Relink.us (crypter)
Anonym.to (crypter)
linkcypt.ws
linksave.in
relink.us
ncrypt.in

Recently added sites

Nova.cz
Barrandov.tv
Channel4.com
Facebook.com
Bbc.co.uk
Titulky.com
Hulu.com
...others will come soon...
watch our Twitter to get latest info
These servers are treating users like clicking monkey... luckily FRD comes to save the day...
Thanks to all people for their plugins and to all translators!
Shoutbox
Watch FRD development on

Twitter or

Facebook .